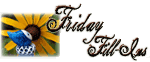 1. There is no need
to keep wearing clothes that don't fit (literally and metaphorically)
.
2. Where in the heck did the
dog hide her toy, and why does she expect me to find it?
3.
Watch the Venture Bros. and eat sunflower seeds
is all I managed to do.
4. Prospects for
employment are not looking so good
.
5.
All you need is love
is the message.
6. Simplicity and tranquility are
things cats are really good at, and it makes me jealous
.
7. And as for the weekend, tonight I'm looking forward to
deciding how to spend my birthday money
, tomorrow my plans include
grocery shopping
and Sunday, I want to
be lazy
!